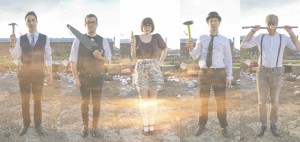 Freelance Whales' song "Generator First Floor", from their debut LP Weathervanes on Mom + Pop Records, is featured in the new Starbucks espresso commercial now airing nationally. The commercial is part of Starbucks new ad campaign to celebrate their 40th Anniversary and the debut of their new logo.
To celebrate this momentous occasion, iTunes is offering a free download of the track at iTunes. The track will be free on iTunes until March 29th.
While this is not the first use of Freelance Whales' music in a commercial, it's certainly their highest profile to date. They are one of 2010's breakout indie acts and have had music featured previously on Grey's Anatomy, Bored To Death, Chuck, My Life As Liz, among others. Their debut album Weathervanes has received press accolades from NME, Paste, Stereogum & Spin Magazine etc.
Freelance Whales are releasing an extended edition deluxe version of Weathervanes exclusively on iTunes April 5th. They will also be on a national tour with Foals and The Naked & Famous April 10th through May 8th.